Siem Reap is an excellent place to buy Cambodian souvenirs, silks, handicrafts, textiles and contemporary art. Only Phnom Penh offers a comparable selection. In addition to the tradition shopping venues, over the last few of years there has been an explosion of new shops, galleries and boutiques, offering a varied selection of quality handicrafts and silks as well as original artistic creations in a variety of media.
Phsar Chas (the 'Old Market')
is one of Siem Reap's largest traditional covered markets and offers the largest selection of souvenirs under one roof in town. In fact, this market is really a 'must visit' in itself for the unique, colorful, local shopping experience. Of all the local markets, the Old Market offers the widest variety of souvenirs as well as the best selection of handicrafts and curios, including such items as traditional silverwork, silks, baskets, statuary, carvings and traditional musical instruments.
What to BuyHand-woven Cambodian silks, stone and woodcarvings, statues and castings, contemporary Cambodian art, Cambodian handicrafts and traditional musical instruments, temple rubbings, silver betel containers, colored gems and basketry are among the most popular souvenirs. The most useful and one of the cheapest souvenirs that you can buy is a traditional checkered Cambodian scarf (krama). If you don't mind looking like a tourist, wear it around your neck like the locals to keep the intense tropical sun off the back of your neck.
Camodian Silks       
Cambodian silks are prized by silk collectors the world over. Most

of the silk available in Cambodia is hand-loomed using the traditional ikat method of dying the threads and looming in the patterns. Both raw and fine silks are available in the form of bolts, sarongs, clothing and various handicrafts. Many of the pieces
available are potential collector's items. A fascinating way to learn about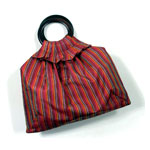 Cambodian silk is to visit the National Silk Center (see listing page 56) where visitors can witness start-to-finish silk creation – growing and harvesting mulberry (food for the silk worms), the breeding process and life cycle of the silk worm, collection of cocoons, separation and spinning the silk, the dying process and the creation of beautiful silk weavings on wooden, multi-harness hand looms. Cambodian silk is available at silk shops and boutiques across town, many specializing in silk creations such as tailored Asian and Euro-Asian fashions, pillows, blankets, purses and other decor and accessories. To learn more about Cambodian silk check the bookstore for 'Traditional Textiles of Cambodia' by Gillian Green
Statues and  Wood carvings    
Statues and carvings of traditional subjects, often copies of Angkorian era works as well as Buddhas and
various Hindu gods and personages, are available in stone, wood and brass. Statues make for relatively heavy, bulky souvenirs but are still very popular because of their beauty and artistic value. The replica of an Angkorian era bust of Jayavarman VII with its graceful lines and peaceful smile is truly captivating and is perhaps the most popular piece. Statues and carvings are
available at the Old Market and most souvenir shops, though it pays to shop around for the best price and quality. Highly-recommended is a stop at one of the local workshops such as Artisans D'Angkor to see craftsman producing wood and stone carvings. At Artisans d'Angkor visitors can observe artisans making traditional wood and stone carvings and lacquerwares following traditional techniques. Of special interest is the traditional polychromy finishing technique that is being practiced in the workshops. Polychromy imparts a unique patina to stone and wood pieces. Free tours available. See the Artisans d Angkor listing. Silver betel containers
Silver betel containers are popular, traditional souvenirs. These pounded silver containers are often shaped like animals, fruits and vegetables, and were originally used in ceremonial and everyday life to hold dried betel nut. (Betel is a type of palm nut that is chewed as a mild stimulant.) In the traditional market, betel looks like coin shaped, dark red plugs. You may see people, particularly older women from rural areas, with teeth stained deep red from years of chewing betel. Nowadays, silver betel containers are made primarily for sale as souvenirs but are still hand crafted using traditional techniques and styles. And in comparison to statues and carvings, they are comparatively light weight and transportable.
 'Temple rubbings'
'Temple rubbings' are for sale everywhere in Siem Reap – the temples, the souvenir shops and the Old Market – but are, in fact, neither actual rubbings nor from the temples. They are in fact made from a heavy paper that is moistened then molded over recreations of original and imagined Angkorian-era temple carvings. Nevertheless, these rubbings are distinctive, light weight, transportable, inexpensive and uniquely Cambodian souvenirs.

Gems
Gems are a tempting souvenir. Western Cambodia, particularly in the area of Pailin, is a fertile source of colored stones. The markets in Siem Reap are full of jewelers specializing in Cambodian sapphires and rubies. Know something about gems and/or know the jeweler before spending much money.