Introduction

 
Welcome to the Kingdom of Cambodia: a country of immense cultural and historical contrasts. The ancient Khmer Empire ruled much of Southeast Asia for centuries and gave Angkor Wat to the world. Its artistic and architectural influences can still be seen in the corresponding forms of its regional neighbors. However, for four years in the late 1970s Cambodia came under the control of Pol Pot's Khmer Rouge regime and fell victim to a failed political ideal that left over two million of the nation's citizens dead from disease, malnutrition and persecution.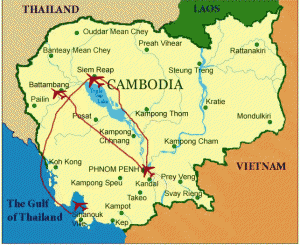 Many people only know of Cambodia in terms of these two periods but there is far more to this country than ancient temples and past tragedies. Its topography and climate are as varied as its culture. The Tonle Sap Lake at the heart of Cambodia is one of the richest freshwater fishing grounds in the world and is home to a variety of migratory birds. Cambodia's mountain and jungle areas abound with rare and beautiful flora and fauna. In these regions animism is still practiced and indigenous, tribal peoples continue to follow a centuries-old way of life.
Cambodia has its own unique and much underrated cuisine and produces delicious, organic meat and fruit. The burgeoning tourist industry has brought relative wealth to some Provinces while in others the life of Cambodia's agricultural workers has changed little in a millennium. But ask any repeat visitors to the country what keeps bringing them back and they will all tell you the same thing: it is the people. The Khmer people have a warmth, strength and spirituality that are a surprise and delight to most visitors. There seems to be an unquenchable spirit, humor and gentle pride in most Cambodians that perhaps explains how they have succeeded in surviving years of political experimentation and civil war.
We welcome you to a most extraordinary country – Cambodia

Facts about Cambodia
Country Name : Kingdom of Cambodia
Motto : Nation-Religion-King
Capital : Phnom Penh
Population : 13.1 million
Time : GMT+7hours
Religion : 95% Theravada Buddhism
Currency : Riel (US$1=4000R)
Voltage : 220v/50Hz
International Airports : Phnom Penh and Siem Reap
Languages : Khmer, English and French
Ethnic Groups : Khmer, Chinese, Islam, Hill-tribes (Northeast), Vietnamese
Climate
Cambodia has two distinct seasons. The rainy season runs from May to October. Temperatures during this time can reach 40 degrees Celsius with accompanying high humidity. The rains bring on lush vegetation and fill the rice paddies with water, creating the classic Cambodian landscape.
The dry season runs from November to April. Temperatures drop to around 20 degrees Celsius at Christmas but gradually climb over the following months to reach a peak of over 40 degrees Celsius by late April. Humidity is noticeably lower during the dry season and the landscape is characterized by yellows and browns. The most comfortable period for westerners to visit Cambodia is November to January when temperatures and humidity are lower.
Working Hours
Hours of operation in Cambodia are somewhat different than in other countries. Cambodians typically take long lunches, and the opening hours for government offices and some business offices are usually from 7.30am to 11.30am, and then from 1.30pm to 5.30pm. If you show up at an office at 1pm for example, you may find no one there.
Travel to Cambodia
Please note the information below is current as of the date of publication. However, immigration procedures and travel conditions can change. Always verify such details before you travel.
Visas
Visas are required for most nationalities. Your passport must be valid for at least six months beyond the end of your visit and have a whole blank page for the visa sticker. Thirty (30) day visas are available upon arrival at all main border crossings and airports. The official visa fee is $20 for a Tourist Visa and $25 for a Business Visa. The visa application form and one passport photo are required. Vaccination certificates are NOT required, with the exception of inoculation against 'yellow fever' if you are arriving from a country where ' yellow fever' is prevalent.You can apply for tourist visas on-line at 'http://evisa.mfaic.gov.kh'.
Border Crossings
Cambodia shares international borders with Thailand, Vietnam and Laos.
Thailand: Koh Kong (Cham Yeam), Oddar Meanchey (Chorm), Kamrieng-Battambang (Daung), Poi Pet (Banteay Meanchey), Pailin (Prom), Oddar Meanchey (O Smach).
Cambodian visas and Thai transit visas available. The Thai border crossing at Poipet is the closest to Siem Reap, and the Koh Kong crossing is closest to Sihanoukville. At Thai border crossings, Cambodian Immigration charges 1,000 Baht for a Tourist Visa, and 1500 Baht for a Business Visa in spite of the sign saying $20 USD. They accept Thai Baht only! Visas may be obtained through the Cambodian Embassy in Bangkok. However, it is time consuming and unnecessary.
Vietnam: Bavet (Svay Rieng), Kaoam Samnor (Kandal-Mekong), Takeo (Phnom Den), Kratie (Trapaing Sre) and Oyadao (Le Thanh).
The main border crossings are at Moc Bai and Chau Doc on the Vietnam side. Visas for Cambodia are available, but Vietnam visas are not. Vietnam visas must be obtained at the Vietnam embassy in Phnom Penh, or through an agency, before leaving.
NOTE: Visas for Cambodia may not be available at the new crossings at Phnom Den, Trapeang Phlong and Le Thanh. Check beforehand. Vietnam declared the opening of a new border crossing at Le Thanh in Gia Lai Province in the Central Highlands on 15th December 2007. The new crossing allows entry at Oyadao in Ratanakiri Province on the Cambodian side. Further details about this crossing are not available at present.
Laos: Stung Treng (Dong Kralo)
Visas for Cambodia are available at the border, but getting a visa at the embassy in Vientiane may be cheaper. Visas for Laos are NOT available, and must be obtained at the Laotian Embassy in Phnom Penh. It is advisable to check the current border situations with a reliable agency or the Laotian Embassy before crossing.
Bangkok to Siem Reap by Bus
Problems on this route continue to annoy and upset budget travellers. If you arrived here on a 'cheap' ticket purchased near the Khao Sarn Road in Bangkok, you are probably aware of the scams and time-wasting that still blight this route into Cambodia. Poipet Immigration is a disgrace and is harmful to the reputation of Cambodia as a tourist destination.
If you know of anyone in Bangkok who is planning to visit Siem Reap on a tour bus from Khao Sarn Road you may wish to pass on the following information and advice and thus help fellow travellers arrive here with a minimum of stress.
Journey Times
hese vary considerably. The overall journey time from Bangkok to Siem Reap is at least 12 hours in the rainy season. Expect to take 4 hours to get to the Thai border with a 1-hour stop at a restaurant in Aranyaprathet. Journey times from Poipet [Cambodia] to Siem Reap are difficult to predict but expect to arrive in Siem Reap between 7.00pm and midnight. Time wasting and poor road conditions account for a lot of the journey time.
Visas
Buy these for around 1000 Bhat from an agency in Bangkok. Visas sold in Aranyaprathet, or at Cambodian Immigration, cost 1000-1300 Bhat. Getting a tourist visa for the published $20 price is very rare.
Inoculation Certificates
Carrying these avoids an unofficial fine that is sometimes levied at Poipet Immigration.
Changing Money in Poipet
Refuse all demands to change currency in Poipet, this is one of the longest-running scams en-route. Be warned: some currency touts are very aggressive.
The Fee-Paying Guesthouse
Rumours and myths abound about the system of delivering tourists to fee-paying hotels. This is how it normally works.
Budget guesthouses in Siem Reap operate in a competitive market. Many opt to 'buy' tourists from the bus companies in order to stay in business. A guesthouse will pay a bus company to deliver tourists directly to its door in the hope that some tourists can be persuaded to stay. When you buy a 'cheap' bus ticket in Bangkok your destination in Cambodia has probably been decided already.
Bus departures are deliberately delayed in Poipet to ensure that tourists arrive in Siem Reap late at night. Often the bus driver will take a circuitous route to the hotel in order to disorientate his passengers. After an arduous day's travel and a stressful time at Poipet many are simply looking for a bed, a shower and a beer. However, it is often the case that tourists are so angry at the way they have been treated that they will immediately go in search of another guesthouse on principal. The fee-paying guesthouse can lose a great deal of money when this happens. Hotels pay $7-$10 per head for tourists.
Try to bear this in mind when you eventually arrive at a guesthouse in Siem Reap. These hotels are trying to stay in business and many offer great services at competitive rates. It is still possible to get a fan room with en-suite bathroom and cable TV in Siem Reap for $5. That is good value anywhere in the world so try to maintain a sense of perspective. There is usually a representative of the guesthouse on the bus from Poipet. Please be nice to him because he has one of the worst jobs in tourism. After you have been over-charged, ripped off and delayed he has to persuade you to stay in his hotel. Look at it from his point of view!
One Final Tip
Travellers often arrive tired and even angry at the end of their journey. However, Cambodian citizens are generally very polite and friendly and 'loss of face' or open displays of anger are considered serious social faux pas here. You will enjoy your time in Cambodia far more if you conduct yourself in a similarly polite and friendly manner. Take it all in stride, have a safe and enjoyable stay and make the most of your time in this fascinating part of Southeast Asia.
Money and Banking
U.S. Dollars are the de-facto currency of the country and visitors can pay anywhere in Dollars. However, you should change large bills at banks, hotels or local exchanges. Many places will not have change for small purchases. Almost all currencies can be exchanged in the larger cities. Thai Baht can be used in places near the Thai border. Exchange rates do fluctuate. Those given below are correct at the date of publication but are provided only as a guideline.
Exchange Rates (approx.)
US Dollar (USD) = 4000 riel
1 Thai Baht (THB) = 100 riel
1 Pound (GBP) = 6644 riel
1 Euro (EUR) = 4897 riel
100 Japanese Yen (JPY) = 3703 riel
1 Hong Kong $ (HKD) = 510 riel
1 Australia $ (AUD) = 2863 riel
1 Canada $ (CAN) = 2902 riel
Banking
There are several national banks where you can change or withdraw money. Working hours are 8am-3.30pm, Monday to Friday. All banks will accept travellers' cheques at a 2%-5% commission charge. Visa, JCB, Master Card and American Express credit cards are all commonly accepted. To get cash from a credit card, you will need identification (passport).
Automatic Teller Machines (ATMs) are available in Phnom Penh, Siem Reap and Sihanoukville.
Communication
Phone and Fax Services
Telecommunications services have improved immensely in the last five years, and all the major towns have international telephone and fax lines. This is not the case however in the more remote, rural areas where lack of communication should be taken into account when traveling. Calling costs vary depending on which country you are calling, but in general it's cheaper to call countries outside of Asia than inside. For example; it's cheaper to phone England than Thailand. When calling internationally from Cambodia, you must precede the number with '001′ or '007′.
Provincial Area Codes
Banteay Meancheay – 054
Battambang – 053
Kandal – 024
Kampong Cham – 042
Kampong Chhnang – 026
Kampong Speu – 025
Kampong Thom – 062
Kampot – 033
Kep – 036
Koh Kong – 035
Kratie – 072
Mondulkiri – 073
Oddar Meancheay – 065
Phnom Penh – 023
Preah Vihear – 064
Prey Veng – 043
Pursat – 052
Ratanakiri – 075
Siem Reap – 063
Sihanouk Ville – 034
Stung Treng – 074
Svay Rieng – 044
Takeo – 032
Internet and E-mail Services
Internet and e-mail services are available in almost all large towns but are not usually available in small villages. Prices per hour vary slightly but generally range from 50¢ to $1 (R 4000) for 1 hour of internet time.
Postal Services
The post used to be legendarily unreliable, but the National Post Office has really improved its service and the staff are extremely helpful and friendly. Letters and postcards invariably reach their destinations, which was by no means the case in the past. However, valuable items still have a habit of going missing and it is advisable to send and receive them by private courier. DHL has an office in Siem Reap.
Health Care
Vaccinations are not required to visit the country, with the exception of 'yellow fever' inoculation if you are travelling from a region where 'yellow fever' is prevalent. Inoculation against typhoid; hepatitis A and B; diphtheria and tetanus is a common-sense measure when travelling anywhere in Asia and Cambodia is no exception.Travellers with health concerns are advised to check with their doctor before heading to Cambodia.

According to the World Health Organization [W.H.O.], Phnom Penh and the Tonle Sap Lake are low-risk areas for malaria and dengue fever. However, these diseases are a serious problem in other parts of the country including the area around Angkor Wat. There is currently no vaccination against dengue fever. Malaria is transmitted by the female Anopheline mosquito.
Recommended anti-malarial medicines include mefloquine [trade name: Larium]; proguanil / atovaquone [trade name: Melarone]; and doxycycline.
Mefloquine [Larium] is an effective anti-malarial drug that is taken weekly beginning 2 weeks before entering a malarial area. Continue the course for 4 weeks after departure. Unfortunately, Larium can produce unpleasant side-effects such as nausea and dizziness and in extreme cases paranoia and hallucinations. Patients with a history of mental illness or anxiety are advised to avoid using this drug.
Note: there are Larium-resistant strains of malaria in Cambodia's western Provinces, including Siem Reap.
Proguanil / Atovaquone [Melarone] has the advantage of producing minimal adverse side-effects. It is taken daily beginning 2 days before entering a malarial area. Continue the course for 1 week after departure.
Doxycycline is commonly used by visitors to Cambodia. Doxycycline should be taken after food. Begin the course 2 days prior to entering a malarial area and continue the course for 4 weeks after departure. Typical side-effects include increased susceptibility to sunburn. A strong sun-screen is recommended when using doxycycline. Doxycycline can also cause vaginal yeast ['thrush'].
Seek the advice of your G.P. before deciding which anti-malaria medicine to use.
Avoiding bites is important so insect repellent is a useful item to stow in your luggage, though well-known brands of repellent can be bought in Cambodia. Most hotels have mosquito screens on the windows and some provide mosquito nets. However, consider bringing a mosquito net with you if you plan to visit remote areas.
HIV / Aids was introduced into Cambodia by United Nations peace-keeping troops in the late 1980s and is now widespread, particularly among workers in the sex industry. It is estimated that over 30% of the sex workers in Cambodia are now infected with HIV / Aids. Having unprotected sex greatly increases the risk of infection.
Prostitution is illegal in Cambodia.
Stomach upsets afflict most visitors at some point during their stay. Standards of hygiene in food preparation are generally not as high as in the west. Food and drink are the causes of most stomach complaints. Various medicines are available to combat stomach upsets and the larger towns and cities have plenty of well-stocked pharmacies. Prevention is better than cure so try to eat food that is piping hot when it arrives at the table and decline ice in soft drinks and beer. Avoid drinking tap water unless it has been boiled or purified: purified, bottled water is available everywhere.
Tuberculosis [T.B.] is the elephant in the room in terms of Cambodian health care. An estimated 60% of the population carries a non-infectious strain of the disease but this fact is not widely publicised. A nationwide scheme to detect and eradicate TB is in place but it may be some time before Cambodia is free of this pandemic. Most tourists run a minimal risk of infection but health workers and long-stay visitors may wish to consider being screened for T.B.
Other diseases generally affect long-stay visitors and should not be a concern for most tourists. These include Japanese encephalitis. Japanese encephalitis is a viral infection of the brain caused by bites from the Culex mosquito. This type of mosquito is most active after dark. The disease is carried by pigs and wading birds and is most prevalent in areas with a lot of standing water. As most of rural Cambodia is covered by rice paddies the risk from Japanese encephalitis is widespread. Inoculation against this disease is recommended for anyone staying in Cambodia for more than 1 month, particularly if the stay involves working or traveling in remote, rural areas. Similarly, rabies is not generally a threat to tourists. Visitors spending long periods in remote areas, or handling animals as part of their work, are most at risk and should consider inoculation against rabies.
Hospitals and Clinics
There are several local hospitals and clinics in Siem Reap and Phnom Penh that offer passable standards of hygiene and training. However, the Tropical and Travellers Medical Clinic in Phnom Penh is UK–run and offers western-level standards of treatment.
Location: house #88, St. 108 [2 blocks from the U.S. Embassy in Phnom Penh].
Tel. 855-23-366-802; email: [email protected]
website: www.travellersmedicalclinic.com
Payment by cash only. ATMs nearby.
There are also plenty of pharmacies in the main towns and cities if you need basic medication. See the 'Local Guides' section of this web-site for specific details and contact numbers.
In extreme cases local hospitals may not have the training or resources to successfully treat a condition. Consider seeking treatment in Thailand or Vietnam, or returning home.
A final precaution is to have good medical insurance. Emergency evacuation to Thailand can cost up to $25,000 and this cost can rise if you are evacuated to your country of origin.

Personal Safety and Security
Despite its reputation, Cambodia is a comparatively safe tourist destination. The political situation has been stable for a number of years and the Khmer Rough no longer exist in any organized form. Land mines have been removed from all major tourist destinations and are only a concern in remote areas, particularly along the Thai border. The main dangers to tourists at present are:
1 – Traffic accidents.
2 – Petty crime, particularly theft.
3 – Sexually transmitted diseases, particularly AIDS.
Tourist Police:
The Tourist Police are there for your protection, and to help you with any problems you may have. In case of emergency call: 012-402424, 012-969991, 012-950091, 012-837768, 016-862629.